The Garveys At Their Best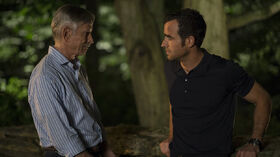 ---
---
---
---
---
---
"The Garveys At Their Best" is the ninth episode of Season 1, and overall the ninth produced hour of The Leftovers. It originally aired on August 24, 2014.
The events of this episode take place in the final days before the Departure. The episode offers a glimpse into the lives of the characters before they were forever changed by the events of 14 October, 2011.
October 13, 2011
Edit
Kevin Garvey is on a morning jog and stops to smoke in secret before returning home. He notices a lone deer staring at him, with something shiny stuck to one antler. When he returns home, Laurie Garvey makes breakfast and reminds Kevin they have an appointment with a puppy breeder. Kevin takes Jill Garvey to school, and she informs him she can smell the cigarettes before she leaves.
Laurie, a psychologist, is about to begin a session when she receives a courtesy call from her doctor. The doctor tells her she is running out of time for an unspecified appointment, and Laurie explains she needs to talk to her husband first. Laurie begins her first session of the day - with her patient Patti Levin. Patti explains to Laurie that she feels something very bad is going to happen. While she's had similar feelings before, Patti says she feels "this is the big one." Laurie believes this may be continued anguish from Patti over being kicked out by an abusive partner. Patti disagrees and says Laurie can also feel "something's wrong...inside you." Laurie denies this, unconvincingly.
Nora Durst, her husband Doug, and their two young children Erin and Jeremy, get ready for school while Nora also prepares for a job interview. Kevin takes a smoke break while on duty, when children and parents suddenly run screaming from a nearby pre-school. Kevin ventures into the school and finds extensive damage from a wild deer's rampage. At the police station, Nora is being interviewed by Lucy Warburton, who is about to begin her campaign for mayor. She wants to know Nora will be fully committed to the job and Nora insists her family will not get in the way.
Mapleton Police of Chief Kevin Garvey, Sr. enters the room and asks Warburton if she'll be at his party tonight. She remarks he's not supposed to know about his surprise party and says she'll be there. Flustered, she insists to Nora that she and the police chief are just friends. Kevin Sr. informs the station that wild deer are on the loose and they have permission to put the animals down on sight. Kevin Jr. argues that it is only one deer and it doesn't need to die. Kevin Sr. gives his son permission to tranquilize the deer if he can catch it. Kevin Jr.'s colleagues put him down, considering his efforts to be pointless.
Kevin Jr. then gets a call informing him that his stepson, Tommy, has been arrested after a physical fight. Kevin takes Tommy out of police custody and begins driving him home, but notices an injury to the back of his head. Kevin then drives to the house of his Tommy's biological father, Michael, who struck him. Michael explains that Tommy keeps coming back and this time he was drunk. Kevin drags Michael to the ground and threatens to kill him if things ever turn physical again. Kevin decides he and Tommy shouldn't tell Laurie what occurred.
Laurie is consulting with the puppy breeder, Gladys, from whom she and Kevin are considering getting a dog. When Kevin texts her to say he won't be there, Laurie begins to cry. At home, Laurie informs Jill she won't be able to make it to her science fair as she has a doctor's appointment. Jill comforts her when she becomes overwhelmed with guilt. Tommy surprises Laurie and Jill, then the family begins preparing Kevin Sr.'s party. Later that night, at least 50 of the town residents gather at the Garvey's to celebrate Kevin Sr., but he is overjoyed the most to see Tommy. One of Kevin Jr.'s colleagues further embarrasses him about the deer, this time in front of Laurie, who is confused by Kevin's intentions.
Matt Jamison delivers a rousing speech to congratulate Kevin Sr. on his "Man of The Year" award. Kevin Jr. also delivers a speech but he is clearly unhappy. While on a smoke break, he is approached by his father, who tells him he understands the disillusionment with life that he's feeling, but he has no choice except to make peace with his lot in life. After the party, Laurie tells Kevin she cried at the dog breeder's and Kevin vows to go with her to purchase a puppy. Nora is annoyed when her husband returns home late from work and shows no interest in how her job interview went.
October 14, 2011
Edit
The next morning - the day of the Departure - Kevin wakes up early, still bothered by something. He goes for a run. Laurie wakes Tommy up and he confesses that he and Kevin confronted Michael the day before. While Kevin is on a smoke break, a car pulls up beside him with four women inside. One asks him "Are you ready?" but when Kevin is confused, they tell him they had mistaken him for someone else. Shortly after they drive off, Kevin is nearly struck by an exploding manhole cover. He races home to tell Laurie, but she only notes the cigarette smell on him. She says she doesn't care if he smokes, but is annoyed by the lie. She asks why he didn't tell her about Michael, after Tommy told her about their confrontation, and Kevin said he didn't feel it was his place to tell. Laurie asks him what he feels his "place" really is within the family and Kevin reveals his resentment for their life. He tells her he never wanted a dog and when Laurie is unsympathetic to him receiving a call about the wild deer, he tells Laurie to fuck off.
Kevin races to the house where the deer has rampaged to. He prepares to tranquilize it but it is too quick and powerful. It races outside and is hit by a car. The woman driving is shaken but unharmed. Kevin notices an "It's a girl" balloon is stuck to its antler. He puts the deer down and the woman's car is towed. Kevin offers to drive her to her nearby motel. She asks him if he's a good guy and Kevin says he is not, so she invites him inside. They begin to have sex. Meanwhile, Laurie drives to her doctor's appointment. On the way, Sam's Mother pulls up beside her, with Sam crying in the backseat.
In the doctor's office, Matt's wife Mary Jamison greets Laurie and thanks her for the party the previous night. Laurie asks why they're at the doctor's and Mary explains Matt's cancer might be back. She is overjoyed when his tests are clear and offers to drive home as they leave.
Laurie receives an ultrasound and becomes emotional upon hearing the baby's heartbeat. Jill and Tommy are at the science fair and they agree their parents are about to split up. Tommy drags Jill into participating in a human circuit experiment, where a small group links hands to make a light switch on. Nora is agitated when Doug won't help prepare breakfast while her children loudly demand food. Nora yells at her daughter when she accidentally spills orange juice on her phone, just as Lucy calls her back regarding the job. Nora storms into the kitchen to salvage her phone while Doug comforts a crying Erin.
As all of these events happen simultaneously, the Departure occurs. Nora's husband, son and daughter vanish, leaving her standing alone in the kitchen. The woman Kevin is having sex with vanishes, leaving him staring stunned at the now empty bed. One of the children participating in the circuit vanishes, leaving Tommy and Jill looking confused and afraid. In the episode's final scene, after being distracted by a nearby scream, Laurie looks back at her ultrasound only to find her baby has vanished.
---
Recurring Themes
Edit
Animals: The origins of Kevin's relationship with the deer from the Pilot are revealed. He sees a deer in a clearing with a mysterious glowing halo while jogging on 10/13/11. He later sees the aftermath after the deer bursts into Nora's kids' preschool. It also apparently wandered into the Big E Superstore and Rosalie Darmody's baby shower, according to Kevin Senior. It later breaks into the Pattersons' house, and before Kevin can tranquilize it, it is hit by the car of the woman he subsequently has sex with, and then he shoots it to put it out of its misery (the halo is revealed to be a balloon that was tangled in its antlers, leading to its confusion). It is also revealed that Gladys was a dog breeder, and Laurie was planning to adopt a puppy from her, but Kevin did not want to.
Cultural References
Edit
After being a main cast member all season, this episode is the first time Amy Brenneman has had a speaking role on the show.
Kevin Senior references the real-life heat wave that hit NY and much of North America in 2011.
Tom's biological dad Michael lives in Purchase, NY, per the credits (the officer who releases him to Kevin is credited as "Purchase Cop").
The woman Kevin sleeps with (credited only as "The Woman") is played by a different actress from the Pilot.
After the table read for the Pilot, Amy Brenneman and Damon Lindelof walked around Central Park for two hours and fleshed out Laurie's backstory over the three years between the Departure and the start of the show, including her profession as seen in this episode. Brenneman says that because Laurie is an empath, she felt the pain of the Departure particularly heavily, and also says that Patti stalked Laurie to get her to join the G.R.[3]
Callbacks
Edit
This episode features several callbacks to prior episodes, including:
Book to Show
Edit
Kevin having been a smoker is an invention of the show.
In the book, Laurie was a stay-at-home mother; the Garveys' wealth came from Kevin and the chain of liquor megastores he inherited. In the book, they live in an "exclusive cul-de-sac" called Lovell Terrace. On the show, Laurie is seemingly a very successful therapist and their lavish home came from her earnings.
Laurie's hectic lifestyle over the two days seen in this episode calls to mind a passage from the book explaining that pre-G.R., Laurie was "forever racing from one obligation to the next."
Laurie says Tom is coming after his morning class. In the book, Tom is attending his first semester at Syracuse University when the Departure occurs.
Patti being Laurie's patient, and having premonitions of something terrible happening before the Departure, as well as her relationship with Neil, are all inventions of the show. The book never addresses Patti's life pre-Departure.
In the book, Kevin, a prominent local businessman, successfully runs for mayor of Mapleton two years after the Departure and unseats two-term incumbent Rick Malvern after Malvern tries to "burn down his own house in an act of what he called 'ritual purification'" (Malvern was also blamed for escalating tensions against the G.R.). On the show, councilwoman Lucy Warburton runs for mayor against popular incumbent Buddy Menlo the same year as the Departure (and presumably wins).
Kevin Senior mentions a deer getting into Rosalie Darmody's baby shower. The use of the name Rosalie may be a subtle reference to Laurie's best friend from the book, Rosalie Sussman, whose daughter departed. Rosalie ultimately joined the G.R., and indirectly inspired Laurie to later do the same.
In the book, Laurie and Jill "had a complicated, slightly oppressive relationship—a little closer than was good for either of them—and Jill had often wished for a little distance between them, some room to maneuver on her own." Whereas on the show Laurie is a busy professional with seemingly less time to spend with her daughter than in the book, the "best mom ever" exchange may hint at the show's version of the complicated dynamic from the book.
Nora's daughter Erin prays before bed on the show, indicating that the show's version of the Durst family was more religious than the novel's. In the book, Nora (who is not Matt's sister) "spent her childhood as a half-hearted Catholic and her adulthood as an equally passionless nonbeliever," and Doug was an atheist. When Matt in the book points out that Jeremy and Erin weren't atheists, Nora responds, "They weren't anything. They were just little kids. All they believed in was their mommy and daddy and Santa Claus."
There is no indication in the book that Kevin and Laurie had marital difficulties prior to the Departure. Whereas on the show Kevin is distant and unsatisfied, in the book he and Laurie excitedly planned to be early retirees. They only drifted apart after the Departure, when Laurie became consumed by the losses of October 14, particularly the departure of her best friend Rosalie's daughter.
Laurie being pregnant at the time of the Departure is an invention of the show.
Doug coming home late and having his phone out at the table reflects him constantly looking at his Blackberry in the book: "That was the way he was those last few years, so absorbed in his work that he was rarely more than half there, a hologram of himself." Nora later realizes that he was mostly communicating with Kylie, not work.
In the book, the Departure occurs while the Dursts are having dinner, and Nora at one point refers to it as "that night." It seems to be earlier in the day on the show. Laurie's sonogram screen says 2:23 PM. However, it seems unlikely that Doug would be home from work at that hour (although Doug did say the prior night, "I can come home early tomorrow"). Erin drinks orange juice, which is most associated with breakfast, but Nora prepares grilled cheese sandwiches, which are most often eaten for lunch.
In the book, Erin is described as provoking the more sensitive Jeremy, whereas on the show Jeremy appears to be the more confrontational sibling (mocking Erin's prayers and trying to take her blanket).
Nora's experience of the Departure on the show is very close to what she describes in the book in her letter to Kevin in the seventeenth chapter, "So Much to Let Go Of." The major difference is that the show adds the detail of Nora's phone being ruined while she is waiting to hear back from a job interview, giving her a stronger reason to be angry beyond Erin simply spilling juice (apple juice in the book). There are other smaller differences: In the book, Nora feels unappreciated because no one likes the Moroccan chicken she worked hard on; after the spill, Nora looks at Doug, who smiles "like none of this had anything to do with him, like he was floating above it all on some superior plane of existence." Nora's final words to Erin are similar in the book ("Damn it, Erin, what did I tell you!") and the show ("Goddamn it! I said two hands!"), as is Erin crying after being yelled at. Nora's moment pausing in the kitchen after grabbing the paper towels is as described in the book: "I think maybe I closed my eyes, let my mind go blank for a second or two. That was when it must have happened." In the book, she tells Kevin she cleaned up the spill after finding her family was gone, then after taking a second look at the table, had a multi-week gap in her memory during which she cannot recall anything.
Jill and Laurie's whereabouts during the Departure are entirely different in the book. In the book, Laurie is dropping off yarn for her best friend Rosalie Sussman, and Jill (who happens to be in the car) goes inside and sits in the basement with her former best friend Jen out of habit. Jill and Jen had formed a "makeshift alliance" as kids because their mothers were best friends, but had become distant when Jen began hanging out with more popular girls. The fact that they were together when Jen departed was an unlikely anomaly. 
The book emphasizes the fact that Jill was an Eyewitness to a Departure (although she was technically watching a YouTube video when Jen vanished), and this is implied to be a major reason for her subsequent depression. In the show, in contrast, all of the Garveys are "Eyewitnesses," downplaying Jill's specific experience of the Departure.
The novel never specifically reveals where Kevin or Tom were during the Departure, but Tom was away at school in Syracuse when it occurred, unlike the show. 
Kevin cheating on Laurie is an invention of the show, consistent with the show's darker approach to his character. The idea of a midcoitus departure is inspired by the book character Chip Gleason, a pledge of Tom's college frat, who has become a legend for departing while Stacy Greenglass was "riding him reverse cowgirl-style." Tom later marvels that Stacy appears to be fine at a party despite her traumatic experience.[4]
"The Girl from King Marie" by Jody Reynolds (Kevin's running music)
String Quartet No. 14 in C Flat Minor, Op. 131, IV. Andante, Ma non troppo e molto Cantabile, composed by Ludwig van Beethoven, unknown performance (Kevin arrives home while Laurie is on the phone)
"Without You" by David Guetta (featuring Usher) (Jill sings along)
"Oh, John the Rabbit" by Elizabeth Mitchell (playing under the Durst family breakfast)
String Quartet No. 13 in A Minor, D. 804, "Rosamunde": II. Andante, composed by Franz Schubert, performed by Quartetto Pressenda (Laurie's office when Dr. Singley calls)
"Tightrope" by Felicia Barton (Kevin drives Jill to school)
"Young Blood" by the Naked and Famous (Jill works on her science project)
"Only a Fool Would Say That" by Steely Dan (at the party; Kevin tells Jill old people picked the music)
"Shotgun" by Junior Walker & the All Stars (at the party; everyone dances)
"Tom's Lullaby" by Max Richter (a detached Kevin watches everyone at the party have fun)
"Who Do You Think You're Fooling?, Pt. I" (Kevin smokes out front and hides from the party)
String Quartet No. 53 in D Major, Hob. III:63, Op. 64:5, "The Lark": II. Adagio cantabile, composed by Franz Joseph Haydn, performed by Quartetto Pressenda (Laurie in her car)
"November" by Max Richter (score leading up to the Departure)
"Departure (Lullaby)" by Max Richter (everyone reacts to the Departure)
The sign in front of Jeremy and Erin's preschool says "elementary school."
When Dr. Singley calls, Laurie's phone says it is 3:15 pm, but this scene seemingly takes place before the appointment with the puppy breeder, which Laurie says is at noon.
The first three lines on the sign-in clipboard at Laurie's doctor feature names (the third of which appears to be Laurie's), scribbled dates (none of which appear to resemble the October setting) and times, followed strangely by four lines that feature only times with no name or date filled in. Laurie writes in a time, also with no name or date. The time is 7:15 pm, which does not seem to be consistent with when she is actually checking in, seemingly during the afternoon. This was likely the result of the actor writing over the course of multiple takes.
The seconds on the time stamp on Laurie's sonogram do not move.
References
Edit
Community content is available under
CC-BY-SA
unless otherwise noted.