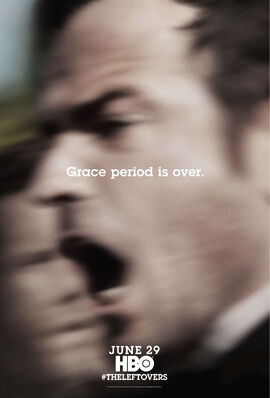 Season 1
---
---
Aired
June 29, 2014 -
August 31, 2014
---
---
---
Slogan
Grace period is over.
Starring
Gallery (71)
Season 1 of The Leftovers is the first season of the series.
Recurring
Edit
Main Plot Points
Edit
Screenshot
#
Title
Original airdate
Writer(s)
Director
1
"

Pilot

"
June 29, 2014
Damon Lindelof & Tom Perrotta
Peter Berg
Three years after millions of people suddenly vanished, police chief Kevin Garvey juggles personal and professional challenges, while the lives of Laurie, an unexpected member of the Guilty Remnant, and Meg, a recently engaged young woman, converge.
2
"

Penguin One, Us Zero

"
July 6, 2014
Damon Lindelof & Kath Lingenfelter
Peter Berg
As Kevin pays a visit to a therapist, Tom and Christine wind up in a precarious situation, Meg is asked to let go of the past, and Jill and Aimee tail a local celebrity.
3
"

Two Boats and a Helicopter

"
July 13, 2014
Damon Lindelof & Jacqueline Hoyt
Keith Gordon
Reverend Matt Jamison struggles to hold onto his church in the wake of threats and debts, and is forced to launch a desperate, last-minute plan to come up with the cash to keep it.
4
"

B.J. and the A.C.

"
July 20, 2014
Damon Lindelof & Elizabeth Peterson
Lesli Linka Glatter
Kevin retrieves a surprise detainee from a neighboring police station and receives unexpected visitors at home, while Tom and Christine run into trouble, and the Guilty Remnant put its stamp on the holiday season.
5
"

Gladys

"
July 27, 2014
Damon Lindelof & Tom Perrotta
Mimi Leder
Laurie is put to the test in the wake of a brutal hate crime, while Kevin turns down an outside offer to rid the town of its problems, and Matt brings his pulpit to the street.
6
"

Guest

"
August 3, 2014
Damon Lindelof & Kath Lingenfelter
Carl Franklin
Nora attends the Second Annual DROP conference in New York, and discovers that her ID has been pinched. While wearing a "Guest" badge, she comes across an amorous salesman, a best-selling author and a rogue attendee.
7
"

Solace for Tired Feet

"
August 10, 2014
Damon Lindelof & Jacqueline Hoyt
Mimi Leder
Kevin orders an APB to track his escaped father down, Jill attempts to break an endurance record, and a disillusioned Tom makes an unsettling discovery.
8
"

Cairo

"
August 17, 2014
Curtis Gwinn & Carlito Rodriguez
Michelle MacLaren
As Kevin fears he's losing touch with reality, Jill confronts Aimee about her relationship with him. Meanwhile, Meg has a violent encounter with Matt, and Nora confronts Laurie.
9
"

The Garveys At Their Best

"
August 24, 2014
Kath Lingenfelter & Damon Lindelof
Dan Sackheim
In 2011, Kevin tracks down a deer in Mapleton, while his father receives an honor, and his son connects with his past. Meanwhile, Laurie receives expected news, and Nora attends a job interview.
10
"

The Prodigal Son Returns

"
September 7, 2014
Damon Lindelof & Tom Perrotta
Mimi Leder
An elaborate Memorial Day initiative by the Guilty Remnant plunges Mapleton into chaos, an unexpected ally helps Kevin get out of Cairo, and Nora makes a life-changing decision.
Promotional Posters
Edit
Community content is available under
CC-BY-SA
unless otherwise noted.