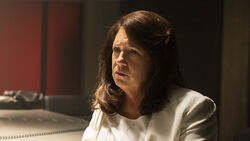 Patti Levin
---
---
---
---
---
Occupation
Leader of Mapleton's Guilty Remnant
---
---
---
Appearances
Gallery (24)
Patti Levin was the leader of the Guilty Remnant's Mapleton chapter, where her no-nonsense attitude helps her orchestrate the group's increasingly strange behavior.
Biography
Edit
Before the Sudden Departure
Edit
Patti was a patient of Laurie Garvey who lived in fear that something very bad was imminent.
After the Sudden Departure
Edit
Patti is the director of Mapleton's Guilty Remnant chapter. She takes a special interest in Laurie after she joins.
Season 1
Edit
She is kidnapped by Kevin Garvey during one of his blackouts. She reveals her knowledge of his infidelity, and tells him that not only did she tell Laurie many things, but Laurie told her many things. She also admits to the murder of Gladys. When he comes to his senses and attempts to release her, she commits suicide by slitting her throat. She now haunts Kevin's psyche, promising to help him if he just acknowledges her existence.
Season 2
Edit
Season 3
Edit
Community content is available under
CC-BY-SA
unless otherwise noted.