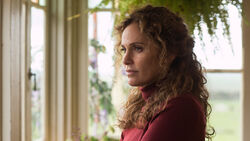 Laurie Garvey
---
---
Occupation
Former therapist
---
---
Residence
Miracle, TX, U.S.A.
---
---
Appearances
Gallery (39)
Laurie Garvey is Kevin Garvey's estranged wife, who joined the Guilty Remnant after the Sudden Departure. No longer a member of the Guilty Remnant, Laurie has moved to Miracle to reunite with her family.
Biography
Edit
Before the Sudden Departure
Edit
Laurie was a successful psychotherapist, so successful that she paid for her family home. She has two children: Tom, from a previous relationship, and Jill, from Kevin Garvey.
She was pregnant before the departure but was worried how her husband Kevin would react knowing that he didn't want to add another child to the family. While viewing an ultrasound of her unborn child, the departure occurred.
After the Sudden Departure
Edit
Laurie joined the Guilty Remnant. She received a Christmas gift from her daughter Jill, a lighter that had the words, "Don't forget me" imprinted on it, but she threw it away in a sewer drain. Later she manages to recover it.
Late in the season, Laurie reveals she hasn't spoken for 10 months. This changes in the finale when the Guilty Remnant decide to plant everyone's house with replica dolls of the departed. This causes chaos in Mapletown. People attack the members, shooting them and burning down their house. Kevin finds someone attacking Laurie and fights them off, which is when she manages to say Jill's name and points to the burning house. Kevin rescues her and leaves. Laurie then meets her son, Tommy.
After this, Laurie leaves the Guilty Remnant. She joins Tommy in trying to help others. Tommy joins the remnants and pretends to be a member and secretly picks out vulnerable and weak members who don't want to be there. They are trying to get people to leave.
Community content is available under
CC-BY-SA
unless otherwise noted.