Certified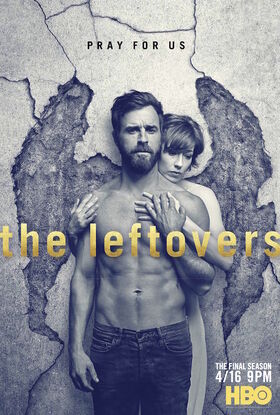 ---
---
---
---
---
Written by
Patrick Somerville & Carly Wray
---
"Certified" is the sixth episode of Season 3, and overall the 26th produced hour of The Leftovers. It originally aired on May 21, 2017. It was written by Carly Wray and Patrick Somerville. 
Laurie Garvey (Amy Brenneman), a former therapist, must become one again as she heads to Australia to help Nora and Kevin along their paths.
Analysis
Edit
Recurring Themes
Edit
Animals: Grace's dog Caleb, and his arthritis pills, again appear. A dog bites Laurie when she is spying on the physicists.
The Bible: Nora says the French sailor got the idea of the "seven-headed sea monster" from Revelations, referencing Revelation Chapter 13. Kevin Sr. references the Last Supper, as recounted in all four of the New Testament Gospels. He also mentions the story of "Doubting Thomas," from John 20:24-29, in which Jesus's apostle Thomas refuses to believe in others' accounts of Jesus's resurrection. Laurie likens herself to another apostle, Judas, referencing his betrayal of Jesus to the authorities, again recounted in all four Gospels. Michael references the thirty pieces of silver Judas was paid according to Matthew 26:15, as well as Judas's suicide by hanging per Matthew 27:1-10.
Memories: Laurie has a flash of opening Jill's gift, and Jill coming home, from "B.J. and the A.C." and of looking at the ultrasound in "The Garveys at Their Best."
Cultural References
Edit
This is the fifth and final episode of the series to actually feature all credited regulars (although Margaret Qualley and Chris Zylka appear in voice only). The prior episodes to do so are Pilot, "Penguin One, Us Zero," "Solace for Tired Feet" and "The Book of Kevin."
This episode features the final series appearances of Jill and Tom. Lindelof has expressed some regret regarding Jill and Tom's limited roles in the third season, saying it "doesn't sit entirely well" with him that the final season "pushed them so significantly to the side" given their prominence earlier in the show.[1]
The opening flashback scene is based on backstory Amy Brenneman and Damon Lindelof conceived for Laurie while walking through Central Park after the first table read for the Pilot.[2][3][4]
Laurie takes ipecac syrup to induce vomiting, although this remedy has found disfavor within the medical community in recent years for being ineffective at purging the body of poisons.
Grace Playford's address is 5 Pigeon Run Road.
The trucks containing Dr. Eden and Dr. Bekker's equipment say "National Weather Research Foundation," presumably as a cover.
"Wherever I May Roam" by Apocalyptica (Laurie's aborted suicide attempt in the opening)
"1-800-Suicide" by Gravediggaz (main title)
La traviata, Act III: prelude, composed by Giuseppe Verdi, performed by Ondrej Lenárd & Slovak Radio Symphony Orchestra (Kevin Sr. tells Laurie about his arrival at Grace's ranch) (this recording was previously used in "Crazy Whitefella Thinking" when Kevin Sr. tells Christopher Sunday his story about Tony the chicken)
"Kneel at the Cross" by Jean Stafford (Kevin Sr. knocks out Officer Gerard)
"Tom's Lullaby" by Max Richter (John tells Laurie about the boat in front of Grace's house, and says he can still shred it if they go home now)
"No, Not One!" composed by Johnson Oatman Jr. & George C. Hugg, sung by Lindsay Duncan (Grace sings while preparing dinner)
"Dona Nobis Pacem 1" by Max Richter (Nora's beach ball story)
"A Blessing" by Max Richter (Kevin and Laurie say goodbye)
References
Edit
Community content is available under
CC-BY-SA
unless otherwise noted.